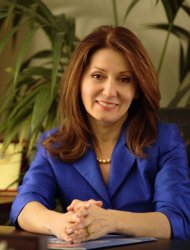 Prof. Dr. Nilüfer Narlı
Sosyoloji Bölüm Başkanı
Bahçeşehir Üniversitesi
Prof. Dr Narlı is a Full professor of Political Sociology in the Faculty of Arts and Sciences at Bahcesehir University. Currently, she is teaching in the Sociology Department she founded in 2005.
Nilufer Narli holds a degree in Education with a major in Philosophy and minor in Sociology; and MSc in Humanities with a major in Logic, the Philosophy of Science and Philosophy from Middle Eastern Technical University, Ankara. She holds a PhD in Social Sciences with a major in Political Sociology from the School of Comparative Social Sciences, University Sains Malaysia. Prof. Narli was selected as an Eisenhower Fellow from Turkey in 1993.
Narli's topics of research and teaching interest include: civil-military relations and military and good governance in Turkey, Islamist movements in Southeast Asia and Middle East, political participation of Muslim women, irregular migration in the Balkans, and political memory.

Narli has undertaken several research projects. The most recent one is the TUBITAK-funded research on "political memory in Turkey" (beginning in December 2012). One of the important applied sociology projects (2007-2009) was the social impact of computer teaching and learning project, sponsored by Microsoft, UNDP and the Youth for Habitat as the NGP partner of the project. Narli took part in a research project, "Governance and the Military: Perspectives for Change in Turkey" (2004-2006). The project was coordinated and funded by the Centre for European Security Studies (CESS) in Holland. She directed the project "Political Islam in Turkey", which was funded by the Ford Foundation in 1992.