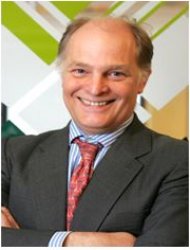 Juan Ferrer-Vidal
Regional Managing Director Millward Brown Europe- Spain, Portugal, Ireland, Greece, Turkey.
Millward Brown
Juan has got close to 30 years experience in Marketing and Marketing Services, locally and internationally.
He joined MB as of mid 2006 as Managing Director MB Spain to re-launch the Spanish operation after a merge. Two years later became Head of Southern European Countries and later COO of MB in Europe. He is a member of MB Euroboard since 2008 and Global Chief Client Officer for Telefónica.
Prior to this, he has been working for UNILEVER, since he got his Degree in Economics. Grew through the Marketing Services & Marketing ranks becoming Head of Marketing in Lever , Sales and Marketing Director of Frigo-Frudesa and Vice-President of Customer Development in Europe.
Juan was awarded with the ESOMAR Prize to Innovation and with the Colibri Prize for Innovation by Lever Europe. He is an active speaker in Marketing topics and in Business Schools.